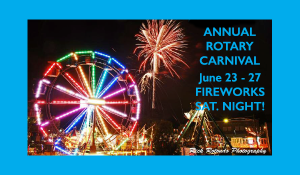 DUE TO THE PENDING SEVERE WEATHER EXPECTED TONIGHT THE FIREWORKS FOR SATURDAY JUNE 27th ARE CANCELED – NO RAIN DATE AS THE CARNIVAL ENDS TODAY AND HAS ALSO BEEN CANCELED. WE DO APPRECIATE EVERYONE'S PATRONAGE OF OUR CARNIVAL WE HOPE TO HAVE THE SUN SHINING FOR OUR 10th ANNUAL CARNIVAL IN 2016!  It's time for our 9th Annual Community Carnival! From June 23-27 each night starting at 6PM the carnival will take place in the parking lot of Springfield Township High School. Food, Games, Rides and other fun is planned each night with fireworks set to go off on Saturday, June 27 once it gets dark, come early enjoy the carnival and grab a great seat for the fireworks.
SPECIAL NOTE: We appreciate everyone's patronage as we've worked around weather all this week: As for Saturday's Fireworks: The Board is meeting tonight (Friday 6/26). We have until 10 am tomorrow to make a decision to cancel or hold the Fireworks. We will post on the website once a determination is made. There is No Rain Date at this time.
FREE PARKING!
Carnival Prices
$1.00 per ticket
Discount Books Available
Wrist Bands $20 all you can ride.
About our Rotary Club!
Over 58 Years of Community Service to Springfield Township, including:
• Renovation of Flourtown Veterans Memorial
• $10,000 & 10,000 lb. Food Donation to Phillabundance
• Children's Area of Springfield Library
• Walking Trails, Bridge, and Gazebo at Cisco Park
• Local Student Athletic and Academic Scholarships
• 3rd Grade Dictionary Project Throughout Springfield Twp.
• Contributor to New Playground at McKelvey Park in Oreland
• International Student Exchange Program (ongoing)
SPONSORSHIPS AVAILABLE:
Advertise With Us! We have Sponsorships available for businesses to help support the carnival. This year we have added a new twist! For an additional $100, our business sponsors will be featured at all of our community events and sales thru May 2016. This would include events such as Community Day, Fruit Sales, Special Olympic Events and so on. This is a great way for our sponsors to get recognition all throughout the year! Just submit the form below with your check made out to Springfield Township Rotary and you're all set.