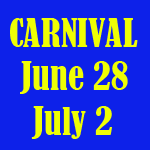 Food, Fun and Fireworks! The 2011 Rotary Club of Springfield Township Carnival kicks off on June 28 and runs until July 2 in the parking lot of Springfield Township High School.
NIGHTLY 6 – 10 PM
Springfield Township High School – 1801 E. Paper Mill Road, Erdenheim, PA 19038
There will be plenty of rides, games and food for all.
Please join the Springfield Township Rotary club as it hosts the 5th annual community Rotary Carnival. The net proceeds goes right back into the community for the many Rotary sponsored service and community projects like: DARE, Springfield High School and Phil-Mont Christian Academy Interact Clubs, Bethlehem Pike and Oreland Street Banner project, many student awards and other community projects. The two main International Projects the club sponsors annually is Shelter Box and the Polio Eradication projects. A Shelter Box will be physically present on site during the carnival for the community to view. Our club has sponsored many boxes of which have been deployed to the natural disasters in Columbia, Nepal, Kenya and Japan. Shelter box donations will be accepted throughout the carnival.
The Rotary Carnival will be held at the Springfield High School parking lot from Tuesday, June 28 through Saturday July 2. Parking is free. Hours are from 6:00 pm to 10:00 pm nightly. $15 wristbands will be honored on Wednesday and Thursday nights only. A new feature of this year's Rotary Carnival is the addition of FIREWORKS on Saturday night around 9:30 / 10:00 pm. Donations will be greatly appreciated and humbly accepted!
Oscars Amusement Company (same company used for the Holy Martyrs carnival) will provide the rides and food stations. Local bands will perform and music will be played throughout each night.  We are so fortunate to have First Niagra Bank, Flourtown as our main sponsor and the Copernicus Society (Piszek family) as our secondary sponsor. We thank each and every one of our sponsors for their commitment to help Rotary make the Carnival a huge success!
The Rotary Club Carnival committee:  Committee Chair: Steve Schagrin, Tim Ernst, Amanda Helwig, Frank Duff and Walt Long. For more information about Springfield Township Rotary club, please contact Joy Zwicker, 215-880-1322.
Sponsorships are available please download the following form: CarnivalSponsorsignupformrev2011PDF