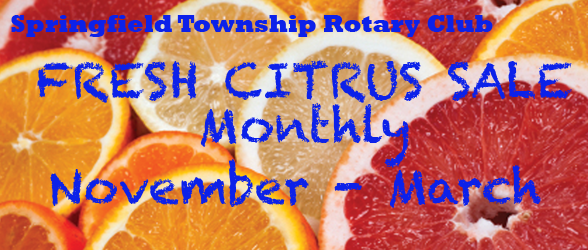 The Rotary Club of Springfield Township is once again to provide the community with citrus delivered fresh, directly from Florida. This annual event is anticipated by our many patrons and is a major fund-raiser for the club so it can continue its service locally, regionally and internationally, wherever there is a need.
Thank you for your past support of this monthly event that runs from November through March. We appreciate your support. The dates of this years Sales are:
November 22 & 23, 2013
December 20 & 21, 2013
January 24 & 25, 2014
February 21 & 22, 2014
March 21 & 22, 2014
To be added to our mailing list please email our Rotary club. To order or for more information each month please visit our Fruit Order Page.
| Month/Dates | Fruit | Type of Case | Price |
| --- | --- | --- | --- |
| March 21-22 | Pecans | One Pound Bag | $15.00 |
| March 21-22 | Temple Oranges | Half Case | $20.00 |
| March 21-22 | Ruby Red Grapefruit | Whole Case | $35.00 |
| March 21-22 | Ruby Red Grapefruit | Half Case | $20.00 |