Pictured (l-r) are Doris Hamilton from Philmont Christian Academy and Robert Gillies from LaSalle College High School.
Pictured is Rayna Abraham, student and Maribeth Competelli (staff) from Mount Saint Joseph's Academy.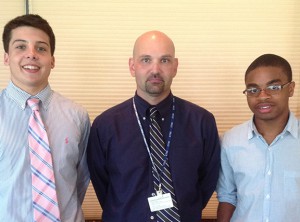 Pictured (left to right) from Springfield High School are Brendan Doyle, student, Bill Scheer, staff and Maurice Rippel, student.
These students have been chosen to attend Camp Neidig leadership camp for High School Juniors who exhibit leadership potential. It is sponsored by the Rotary Clubs in the Rotary District 7430 (Southeastern Pennsylvania). Since 1950, Camp Neidig has been helping inspire our leaders of tomorrow. Students will attend leadership workshops and problem solving seminars as well as interact with guest speakers.