The Springfield Rotary Club welcomed past foreign exchange student Becky Holcomb to speak about her experience of traveling abroad to Belgium for a year when she was sponsored by the Club in the early 1990's. Her experience, as she shared with the club, was one of the most amazing life changing moments. To this day, Holcomb retains close bonds with her host family abroad. The program also featured an introduction of current outbound exchange student Jennie Lukoff who will also be going to Beligium. Springfield Rotary strives to give foreign exchange opportunities to seniors in our community while also hosting inbound students. The goal is to create peace and understanding and cultural exchange as part of their humanitarian efforts.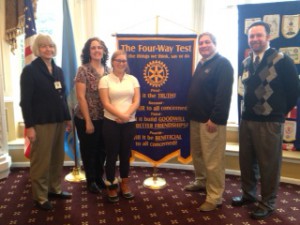 Pictured left to right:
President Linda Silva, Becky Holcomb, Jennie Lukoff, Mr. Lukoff, Robert Jacobus, Exchange Chair.
Pictured left to Right:
Becky Holcomb and Past President Jeff Kroberger who was President during Ms. Holcomb's year abroad.