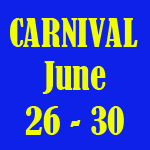 The Springfield Rotary Club will once again holds it annual Community Carnival. Last year's carnival was a great success and was capped off with a fabulous Fireworks Display.
This year we plan on having a great week and again capping off the carnival with an even better fireworks display on June 30 at dusk. June 26 – 30, 2012 the action starts at 6PM each night.
WEDNESDAY & THURSDAY ARE WRISTBAND NIGHTS – $16.00 for ALL rides all night.
Why not become a sponsor?  The community support for this carnival is great. Thousands of people will see your message while they are enjoying the rides and food. Sponsorships start at a reasonable $100. Carnival_Sponsorsignup_form_rev_2012 PDF
If you have any questions, please feel free to contact Steve Schagrin at 215-272-8262.