The Rotary Club of Springfield Township yearly honors students that stand out as extraordinary sportsman in the field of Golf and athletics. The Gene Gisburne Memorial Award was named after a Past President of Rotary who passed away suddenly. His family and the Club honor his memory by giving the award in his name for a sport he was fond of. This award has become a cherished and sought after accomplishment for many students.
Picture 1: Recipient Alison Snakard from Mount St. Joseph's, coach Mike Brown and President George Schaefer.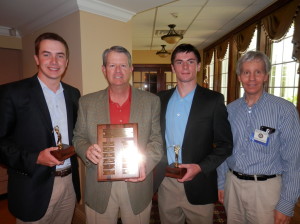 Picture 2:  Recipients from LaSalle College High School:  Jack Gregor, coach Marty Jackson, recipient Joe Rueter with President George Schaefer.
Picture 3: Coach Tom Vizza, Recipient Chris Binet from Springfield High School and Rotary President George Schaefer.