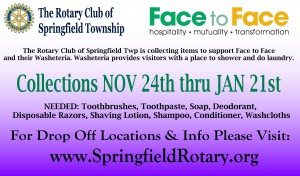 Rotary Club Of Springfield Township Community Drive
To Benefit Face To Face Toiletries For Washeteria
Offering dignity, compassion, and a sense of community to hundreds of disenfranchised men, women and children, Face to Face, a 501(c)(3) human services organization in Germantown, is a haven offering food, human warmth, and access to solutions for life's challenges.
Many guests suffer from physical and/or mental health ailments, drug and alcohol addiction, post-traumatic stress syndrome and homelessness.
From its origins as a soup kitchen in 1985, Face To Face has evolved into a multi-faceted organization dedicated to caring for every aspect of its clients' well being on an individualized, person-to-person basis.
Located at 109 Price Street, in an historic building rented from St. Vincent's Parish, the Dining Room serves about 500 free meals each week on Friday, Saturday, Sunday and Monday.
For most, the sense of social connection and acceptance they experience within the walls of Face to Face is as nourishing as the food itself.
Through many years of commitment to its community, Face to Face has created an environment of trust and hospitality that reacquaints each guest with his/her humanity.
Support services include a health care center, legal and social services, computer training, creative arts studios, and children's after school and summer programming.
In addition to these services, a Washeteria provides visitors with a place to shower and do laundry.
Face to Face relies on in-kind donations to meet the basic needs of its clients. Face to Face currently needs the following toiletries (small/travel size): Toothbrushes, Toothpaste, Soap, Deodorant, Disposable Razors, Shaving Lotion, Shampoo, Conditioner and Washcloths.
With a unified dedication, Rotary and our community can make a difference helping our neighbors – face to face.
Rotary is collecting: toothbrushes, toothpaste, soap, deodorant, disposable razors, shaving lotions, shampoo, conditioner,  and washcloths
PARTICIPATING BUSINESSES & ORGANIZATIONS

Arcadia University
Avant Apres Hair Salon – Erdenheim
Karla's Kitchen – Flourtown Farmer's Market
Sandy Run Country Club – Oreland
Springfield Community Foundation
Springfield Township High School
Philmont Christian Academy
Bed, Bath & Beyond
Bonus Marketing – Flourtown
Grace Lutheran Church – Wyndmoor
Tony's Pizza City – Wyndmoor
First Niagara Bank – Flourtown
Zion Lutheran Church – Flourtown
Dave's Poultry – Flourtown Farmer's Market