Today, the Rotary Club of Springfield inducted as our newest member, Elizabeth Shannon. She was sponsored by Marcia Thompson. Welcome Elizabeth!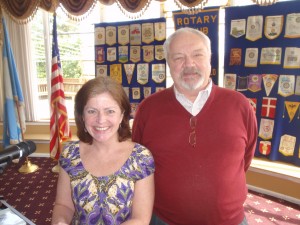 Elise Seyfried with Rotary President Jack Norrie.
Our speaker today was Elise Seyfried, a very busy Mom, writer, actress, and wife who gave a very interesting and humorous talk on excerpts from her book "Unhaling" a word coined by her son when he was a child. Sales of her book help support Lutheran World Relief.