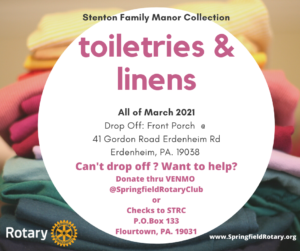 THE NEED:
Stenton Family Manor
is a homeless shelter geared toward helping homeless families reestablish themselves. It is located at
1300 E. Tulpehocken Street
Philadelphia,
PA
19138. 
In the month of March 2021, the Rotary Club of Springfield Township will be collecting funds and running a toiletry and linen drive. The following are now be accepted:
Toiletries : MUST BE NEW
1. Toothpaste
2. Toothbrushes
3. Razors & Shaving Cream
4. Bar Soap
5. Personal Feminine Hygiene Products
6. Mouth Wash
7. Floss
8. Manicure Kits
9. Polydent
Sheets: CAN BE GENTLY USED NO STAINS OR HOLES
1. Sheets (TWIN PREFERRED) but will accept all sizes
2. Pillow Cases
3. Blankets
4. Comforters / Quilts
5. Mattress Pads
DROP OFF: MONTH OF MARCH ONLY, FRONT PORCH:  41 Gordon Road, Erdenheim, PA. 19038
Monetary Donations can be sent either via Venmo or by check:
Venmo @SpringfieldRotary Club  (Bonny Ostrofsky – Rotary's Treasurer's name may appear)
Checks made payable to Springfield Township Rotary Club  P.O.Box 133, Flourtown, PA. 19031.