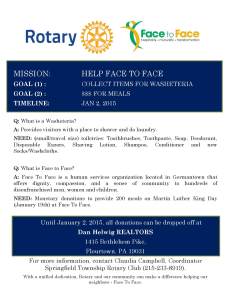 This holiday season thru Martin Luther King Day, Springfield Rotarians are collecting monetary donations and toiletry items for Face to Face in Germantown. Children at St. Genevieve's in Flourtown have offered to help the homeless too by collecting sew socks for those less fortunate. Rotary invited Sister Theresa and some of the children to Rotary as a thank you. For more information please visit www.SpringfieldRotary.org. to see how you can help.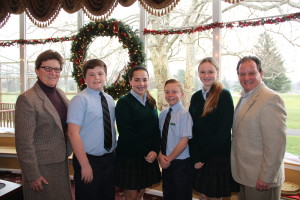 MISSION: HELP FACE TO FACE
GOAL (1) : COLLECT ITEMS FOR WASHETERIA
GOAL (2) :  $$$ FOR MEALS
TIMELINE:  JAN 2, 2015
Q: What is a Washeteria?
A: Provides visitors with a place to shower and do laundry.
NEED: (small/travel size) toiletries: Toothbrushes, Toothpaste, Soap, Deodorant, Disposable Razors, Shaving Lotion, Shampoo, Conditioner and new Socks/Washcloths.
Q: What is Face to Face?
A: Face To Face is a human services organization located in Germantown that offers dignity, compassion, and a sense of community to hundreds of disenfranchised men, women and children.
NEED: Monetary donations to provide 200 meals on Martin Luther King Day (January 19th) at Face To Face.
Until January 2, 2015, all donations can be dropped off at
Dan Helwig REALTORS
1415 Bethlehem Pike,
Flourtown, PA 19031
For more information, contact Claudia Campbell, Coordinator Springfield Township Rotary Club (215-233-8919).
With a unified dedication, Rotary and our community can make a difference helping our neighbors – Face To Face.