The 2011 Edition of Changeover Night was held June 14, 2011 at the Sandy Run Country Club as a celebration to honor our outgoing and incoming officers of the Rotary Club of Springfield Township. It was a night of laughter, fellowship and a few tears as we remembered several members who passed away over the last Rotary Year, including Tom Timoney and John Brady.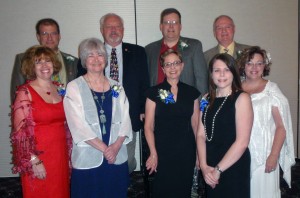 Jeff Kroberger emceed the evening and Mick Kelly, a bag piper from The Philadelphia Emerald Society Pipe Band added a touch of the "old country" for outgoing President Jack Norrie. The new Board was welcomed in for the new Rotary year and incoming President Roseann Nyiri presented Colleen Robinson (below) of the Springfield Community Foundation with the 2011 Citizenship Award.
Board Member and Rotary Foundation Chair: Maureen McGettigan then explained the Paul Harris Fellow awards and that the club saw fit to award three in 2011.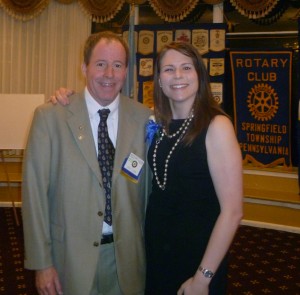 Walt Long (Presented by Mandy Helwig) – for his tireless work internationally with the Water Tower in Tanzania and his consistent support of the club locally.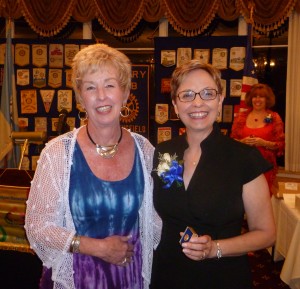 Carol Getz (Presented by Rosann Nyiri) – for her continued "mothering" of the club, planning fun fellowship events and continued support and planning of events such as Changeover Night and Charter Night.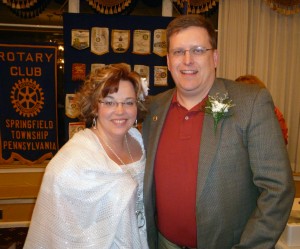 Tim Ernst (Presented by Teresa Buzniak) – for his support of Rotary projects through technology, running the email notification system for Bingo, Fruit Sale and other events and using his talents to revamp the club's website.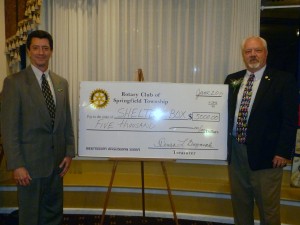 Jack Norrie, as outgoing president, made his presentation of $5,000 to Shelter Box USA, one of his goals of his presidency to Allan Syphers, a Blue Bell Rotarian and District 7430 Shelter Box Representative. The money will be used to purchase five shelter boxes that the club can track in the future and help those in need of shelter, food and water around the world.
More information on Shelter Box.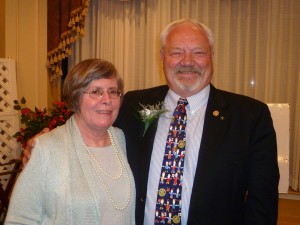 Jack also made his President's awards to several club members who consistently go above and beyond the call of duty to keep the club running smoothly. George Schaefer was recognized for his commitment to a successful Fruit Sale. Janine Corbett (pictured above with Jack) was cited for her excellence as Program Chair. Mandy Helwig and Teresa Buzniak were awarded respectfully Rotary Secretary of the Decade and Rotary Treasurer of the Decade Awards.
Jeff Kroberger had the crowd in stitches as he turned the tables on outgoing president, Jack Norrie and administered his own trivia quiz complete with "wiener" references and ended with a stirring tribute to Jack's Scottish and University of Edinburgh roots with a reading of Robert Burns' My Heart's in the Highlands while the evening's piper played Amazing Grace.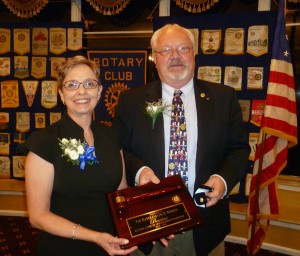 Roseann Nyiri then presented Jack with the past president's pin and gavel and Jack then made the presentation of the President's Pin to Roseann. Roseann then concluded the festivities with her vision for the next Rotary year that will fall within the Rotary International theme of "Reach Within to Embrace Humanity."
More PHOTOS