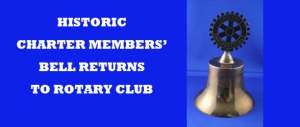 "Oh if that bell could talk," stated Rotarian Frank Duff on examining a brass bell at a the Club's Board meeting. The bell was recently returned to the club, no one had seen it since the late 1950s or early sixties when it was created to honor the Charter Members of the Rotary Club of Springfield Township. The club was chartered in 1957.
Where the bell has been and how it came to be back in the club's possession is an interesting story. Using the Contact Our Rotary Club link on this website, Anna Maye Sigel an Inactive member of the Hancock, MD Rotary Club, reached out to ask if we'd be interested in getting a brass bell with the names of our Charter Members back? Club President Roseann Nyiri answered Anna Maye and said she'd love to get the bell back. It seems Anna Maye's brother frequents yard sales and flea markets found the bell. When he saw it was "Rotarian" he passed it along to his sister. She did some research and narrowed it down to our club. Anna Maye went out of her way to package up the bell and ship it from Walfordsburg, PA to Roseann. Anna Maye may be inactive, but she's truly a Rotarian at heart. Thank you Anna Maye!
The Bell lists all the Charter Members of the Springfield Rotary Club. As of October 2011, Walter S. King and Robert L. Mohr remain the only living Charter Members of our Club.
Norbert J. Puerta
David A. Johnston
Thomas J. Timoney
Hood van den Arend
Godfrey R. Sauter
Rex E. Lothrop
Edward A. Baumgart
Pearce M. Gabell
LaRue Lunger
Robert L. Mohr
Walther S. King
William J. Winters
John J. McGettigan
Edward L. Feilke
William A. Nye
Lewis E. Hatch
John A. McNichol
John M. Collyer
William R. Walton, Jr.
John J. Fleming, Jr.
C. LeRoy Sibre
The club is hoping to get the bell put on display at Sandy Run Country Club where the current club meets weekly.