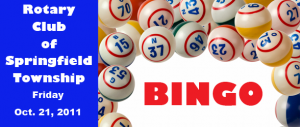 Unfortunately, because tickets sales fell below expectations the Rotary Club has decided CANCEL the BINGO GAMES scheduled for:
Those who already paid will be receiving full refunds.
Friday, October 21, 2011
at 7 PM for the Rotary Club's Second Annual Bingo Night!
Tickets are $25 per person in advance and $30 at the door. Tickets price includes heavy appetizers and three Bingo cards (cash bar).
Lots of fun and prizes … get your ticket today before Rotary sells their limited number of seats … and be a part of a fundraising event that helps kids in our community as well as around the world!
This year's event proceeds will benefit the non-profit Pitch in for Baseball organization. Though invented in the U.S. baseball is embraced by many countries around the world. Young players in the Pacific Rim and Latin America play the game with as much joy and success as kids in North America. Everywhere baseball is played, it becomes an important part of the culture and teaches kids many important lessons, like teamwork and sportsmanship. It also gives kids the chance to be active, get fit and have fun.
That's Pitch in for Baseball's Mission: to help kids and make friends all over the world by sharing the great game of baseball. The organization collects and donates baseball equipment and other assistance to young people in underserved communities around the globe. Donations of equipment and money are tax deductible.
The organization began after hearing about the efforts of Bill Piszek and his work to share the game with needy kids in Poland. Piszek is a member of the Springfield Rotary Club.