Rotary Club
Recently Our Rotary Club was featured on these news sites:
Before and After's of our Interfaith Housing Apartment in Ambler. We partnered with The Rotary Club of Blue Bell to update this out of date Kitchen for the families we host here! Big thank you to Bob Scott III, Mike Thornton, Anthony Felle, Steve Schagrin, Frank Duff, Angelina Ciliberto Militello and anyone else we are missing from Springfield Rotary who chipped in for the labor!
Springfield Township Rotary Club presented the Student / Teacher awards to five local schools on Tuesday, May 3, 2011. The schools represented were Carson Valley Center, LaSalle College High School, Mt Saint Joseph Academy, Phil-Mont Christian Academy, and Wordsworth Academy (Springfield High School Student/Teacher awards will be held on a separate date). The Rotary Club presents this award annually to the student and teacher who best exemplifies the ideas of Rotary "Service Above Self".
LaSalle College High School Student Teacher Awardees:  Carol Haggerty, Joe Marchese, Sean Sweeney, Julia Maher and Don Mirabile
Wordsworth Student Teacher Awardees:  Angerique Thornton, Paula Frost and Alex Prinzvera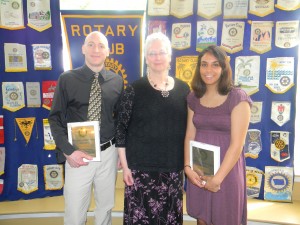 Phil-Mont Christian Academy Student Teacher Awardees:  Matt Stemler, Sarah Ghattas and Marilyn Furcola
Mt. Saint Joseph Academy Student Awardee:  Catherine Moran and Sister Joan Cassidy
Carson Valley Student Teacher Awardees:  George Melton, Lori Ogeda and Lakeisha Robinson