DJ Dave Cipriano with Rotarians Maureen McGettigan and Sharon Vecchione,  at St. Patrick's Day dance sponsored by Springfield Rotary Club for Special Olympics athletes.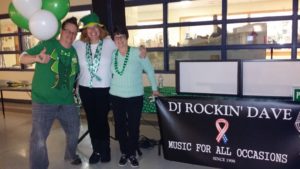 Springfield Township Rotary Club hosted 80 Special Olympics athletes from Montgomery County track and field, plus members of their families.
It is their annual St. Patrick's Day dance, held on March 16th in the Springfield Township High School cafeteria.  The Springfield Township School District has been very generous in providing  the Rotary Club with this venue each year.
DJ Dave played music for 2-1/2 hours, leading fun dances and handing out St. Patrick Day themed party favors including necklaces, hats, bracelets, scarves and boas.
Organizing for the party takes a lot of Rotarians and friends. This year 12 Rotarians helped out with the shopping, party decorations, and food service. The athletes enjoyed sodas, hoagies, tomato pie and of course, St. Patrick's Day themed desserts.
A great time was had by all, and we're all looking forward to inviting the athletes back next year!