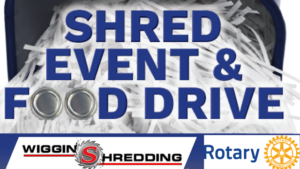 Springfield Rotary is proud to bring back the 2023 Spring Shredding and Food Drive Event, please bring out your old papers to be shredded and help your community by bring non-perishable food items for our Rotary Members to collect and help those in need.
WHEN: SATURDAY, MAY 20, 2023 9AM – NOON
WHERE: 1710 BETHLEHEM PIKE – FIRST PRES. CHURCH in SPRINGFIELD
Thank you for your support.